For my first trivial bit of coding while I'm here, I patched the debconf IRC bot to announce nicknames as well as the real name of new arrivals (a feature request from madduck). I'm hoping to resist wasting time adding lots of features to it - the code is awful.
This morning I went running at 8:30 - in theory there are going to be group runs in the morning and afternoon sometime, but for now I went on my own. It was quite nice with the ocean views... the local runners seem to wear tracksuit tops at this time of year, though.
Posted: 05 Aug 2008 00:00 | Tags: Planet WUGLUG, Planet UWCS, debconf, debconf8
I arrived in Mar del Plata yesterday - DebConf this year is all in one hotel (with a nearby hotel for overflow accommodation next week), which makes everything very convenient. When they're not serving meals, they're usually serving coffee and cakes in the hacklab.
There were some teething troubles with the networking today, so I took a walk down the beach. Mar del Plata reminds me of Llandudno - it's a popular beach resort in the summer, but it's winter at the moment. Not that I've ever been to Llandudno in the winter, come to think of it... but imagine a cold summer day in North Wales. There's a run-down pier and everything. The big difference is that Mar del Plata is a huge city - I walked a couple of miles down the coast today, and the buildings were just stretching on. Oh, and everyone speaks Spanish.
When I got back, the network was fixed (yay), so I messed around getting SIP calls working. Outgoing works pretty well now, but I've yet to see whether my UK number is going to ring my mobile. I should have voicemail set up now, so people can leave a message instead of just not getting through to me.
At some point I'll stop settling in and do some packaging or something - but as a holiday, it's quite relaxing.
Posted: 04 Aug 2008 00:00 | Tags: Planet WUGLUG, Planet UWCS, debconf, debconf8
Lamby reckoned I wouldn't be able to resist using the DebConf8 blog sticker thing. And he was right.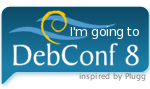 My horrendously expensive plane tickets arrived last week.
Posted: 03 Apr 2008 00:00 | Tags: Planet WUGLUG, Planet UWCS, debian, debconf, debconf8